LIVE BOLDLY. PUSH YOURSELF. DON'T SETTLE.
***RE-READ ON 8TH SEPTEMBER 2013 WITH LA-LIONEE & ANA RITA, THANKS LADIES FOR MAKING ME RE-READ ONE OF MY ALL TIME FAVES***
------------ORIGINAL REVIEW--------------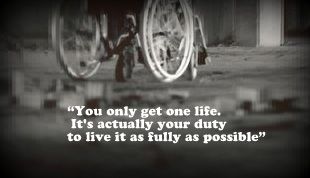 This book,
holly hell this book
! I finished this yesterday and thought it was great but I can not express what I felt this morning when I woke up thinking about them.
Me Before You is real, just like life is real. This is not a sappy book with silly characters that fall in love and that's it.
This is a book about friendship, love, patience, ambitions and many many many more things
. Yes, you're gonna cry if you're human but you're gonna LAUGH, a lot! Because Will & Lou are smart asses that will make you love them from the beginning.
You know what? I had the pleasure of reading this gem on paperback and I marked the whole damn book and I was planning to quote some of the best sentences but I am NOT gonna do that. You wanna know why? Because
you need to experience this book, you need to read it blind
This book will teach you to
LIVE BOLDLY
Will used to live boldly, he was an attractive guy on his early thirties with a great job, a hot girlfriend and an amazing life in London until one day everything changes.
Two years later he crosses paths with Lou who apparently has nothing in common with him. But they have to spend time together whether they like it or not. And they don't like it, they actually hate each other at the beginning of their story. But sometimes, life puts you on a place for a reason and you open your mind and start seeing things that you didn't even see before.
This book will teach you to
PUSH YOURSELF
Lou was a normal girl in a normal city with a normal life, a normal boyfriend and a normal job. Until one day things changes for her, she loses her job and she has to
PUSH HERSELF
to things she never thought about. But she discovers that pushing your limits, walking outside your comfort zone is not that bad.
And this book will teach you to
DON'T SETTLE
No matter how hard your life is, you can't settle, you need to look forward, you need to live,
LIVE WELL. JUST LIVE This book is the reason why I read!
And this is how you write Romance. I am VERY TIRED of hotties falling in love after watching each other and feeling an instant electricity. No! That's not real.
Will & Lou hated each other at the beginning, Lou was forced to be with him and he didn't have any choice at all BUT they got to know each other and they fell in love and OMG it was so freaking beautiful because that's love, REAL LOVE. Lou would have done EVERYTHING for him and he proved his love for her too.
This book just taught me that there are people who are worth it out there
. People like Lou who would leave everything behind to help someone like Will. People like Will who would push Lou to LIVE even though that would mean she wouldn't be around that much.
There is NOTHING about this book I can complain about
. ANYTHING, NADA! I understood every single character, their POVs, even Will's dad. I would have love to read Will's POV in at least one chapter but loved the book anyway.
My favourite part was Alicia's wedding
. That moment when they were looking at each other, than hunger for something they could give to each other, that passion, that LOVE and respect…
The below are my personal thoughts, I understand you might have your owns and you might think I am evil, that's ok. I will respect all your opinions, hope you can respect mine.
Living with someone like Will and loving someone like Will is NOT easy and I understand what they did, if you love someone you would do ANYTHING to see that person happy
I am totally against suicide but in this case I truly understood him and I would have helped him to go to Switzerland. He was living a miserable life, he wasn't happy and he has the right to decide what to do with his life.
We had a similar case in Spain. Ramon San Pedro was in the same conditions than Will and he did exactly the same and when I saw that on the news I was a teen but even then I understood him . If you get a chance, pls watch the film
Mar Adentro by Alejandro Amenabar
, if you loved this book, you'll love that film.
Deirdre & Joana recommended me to watch The Untouchables so go read their reviews and check that film too.
I know this might not be a coherent review but I am still a mess!
READ. THIS. BOOK.

Thanks Amaia & V for this BR